14 December 2016
A completely natural and intuitive interaction with technological products: this has always been the greatest aspiration of designers and engineers of the most innovative companies. Such a human and natural interaction that no longer needs any interface.
Nowadays, this aspiration is becoming a solid reality, thanks to the convergence of the expectations and the desires of the users and the development of new emerging technologies, which have given rise to an extremely interesting line of work with a great future projection.
This has been understood by the technology-based startup Binary Soul, which has conceived Motion Box, a complete and interactive solution for presenting products or systems for the industrial sector.
Motion Box is a new way to display products at fairs, shows, congresses or meetings using advanced gestural control technology. This innovative interface prevents the user from playing keyboards or other devices directly, allowing much more freedom when displaying 3D models of complex products such as machines, ships, engineering systems, pumps, etc.
«Our goal was to reinforce people's natural motivations, to get the desired link and behavior changes», said Santiago Córdoba, Commercial Manager of Binary Soul. In contrast to regular video or infographic presentations, Motion Box displays 3D models of any product you want to present, providing an interactive real-time experience. «You can select and take objects, move them and even change your perspective 360º. In short, move things with your hands, as you would in your daily life», continued Santiago Córdoba.
In addition, through elaborate three-dimensional models and detailed animations, it is possible to simulate work processes realistically. These models only include the relevant or desired information in each case, so people with a low technical profile can use the system in an extremely easy way. Its handling is really intuitive, and its installation as simple as connecting the equipment via HDMI to the desired playback device and pressing the power key.
To design the physical support of this innovative system, Binary Soul has relied on the experience and professionalism of ADN DESIGN, an advanced product design consultancy capable of making the people's experiences meaningful and creating strong emotional ties with the brands.
«As a system with an innovative gestural interface», commented Carlos Alonso Pascual, director of the project at ADN DESIGN, «the initial challenge was to create a conceptual frame of reference that would allow natural interaction between people and the device».
After an initial analysis of the trends in the so-called "No Interface Smart Objects" -intelligent objects with natural interaction- and the identification of the different strategic lines of development, the team selected those that initially could establish emotional links between Motion Box and its users, and thus generate quality experiences.
Among the five strategic lines initially identified, two were selected to direct and guide design decisions: UltraPure and NatureTech. UltraPure proposed a simple and minimalist design, led in this case to its most refined rational expression; NatureTech, for its part, proposed the integration of natural materials into technological products. The convergence of these two strategic lines determined the selection of materials to be used in Motion Box.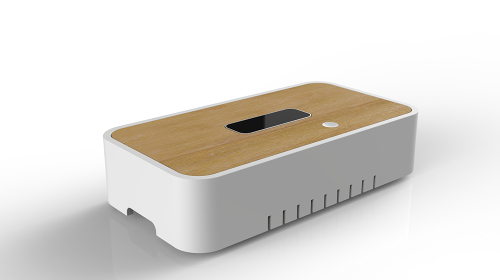 «The use of a natural element such as untreated wood, along with advanced material such as Corian®, which has a very sophisticated surface texture, allowed to achieve the right balance between technological accuracy and natural interaction», said Carlos San José, Director of development at ADN DESIGN. The use of a basic color such as Glacier White for the Corian®, along with the color and texture of the cherry wood and the use of stainless steel for the base, suggested connections with artisan products and with sophisticated technological elements of the luxury sector.
The entire Motion Box system has been created to transform industrial content into enriching interactive experiences. The team consists of two parts, the Head & the Column, which can be easily dissociated to allow their use in both promotional events and product outlets, as well as in marketing meetings.
«The work on Motion Box has consisted of creating an element that would allow us to offer memorable, exciting and unique product presentations, so that they could become meaningful experiences for people», concluded Carlos Alonso Pascual.
The system has already been used with great acceptance in important competitions such as MetalMadrid 2015 or BIEMH 2016. Recognized organizations and industrial companies such as Innobasque, Amada or Cie Automotive, have trusted in Motion Box to make their presentations.
Natural and intuitive interactions have finally ceased to be a technological fantasy to become an innovative real experience for Motion Box users.
Company: BINARY SOUL
Creative Direction and Design: ADN DESIGN
Corian® Prototyping and Production: DAB Leioa
Communication and Graphic Design: Angélica Barco & Leire Gurrutxaga
Labels: Products
0 Comments: