30 October 2015
Dronak, a young Basque company whose mission is to create value in our environment through the use of drones, has relied on the creativity and experience of ADN DESIGN for the design and development of a line of takeoff and landing pads. The first model of this line has been presented today at the BIME Hack Day, the technological and hackathon meeting currently being held in Bilbao Exhibition Centre.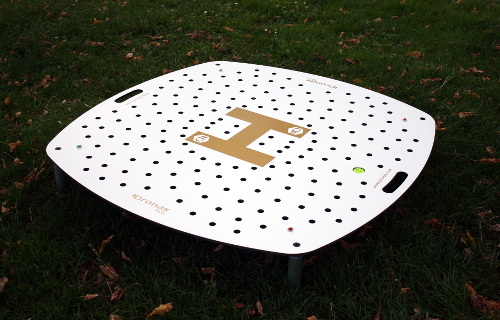 The new DronakTech Pad is designed to accommodate the Flydeo Y6, an impressive drone of 130 centimeters in diameter that is capable of reaching a speed of 45 km/h with a range of 70 minutes. The uses of this powerful drone are varied: photography and video recording, search for missing persons, documenting accidents or natural disasters, thermal control of buildings, control of agricultural crops or power lines and many other really interesting applications.
To facilitate the landing and takeoff of this impressive system and other models of drones, ADN DESIGN has created a pad made of CompacMel Plus, a compact high density wood fiber board produced by FINSA, which has excellent mechanical properties and good behavior in conditions of high humidity. In 2011, FINSA became the first manufacturer of technical wood on the Iberian Peninsula providing the Environmental Product Declaration (EPD). The EPD is a tool to convey clear and transparent information on the impact a particular product has on the environment during all stages of its life cycle. The production process of CompacMel Plus saves up to 80% of the emission of greenhouse gases, compared to traditional compact laminate process.
The surface of the platform Dronak Tech Pad has been provided with a set of holes to avoid ground effect, an aerodynamic phenomenon that generates a high pressure zone under the drone when close to the ground, and could cause a sudden loss of stability under certain conditions. Also, the Pad is endowed with a round bubble level and adjustable feets to maintain the horizontality of the platform within the recommended range. The corresponding pilot signal LED at the corners of the board complete the equipment of this innovative pad.
"This first prototype will be used to test the operation of the pad in various situations of actual flight -remarked Carlos San Jose, project manager at ADN DESIGN- and will allow the design team understand the requirements of the pad in various environments and in various usage situations". This learning and iteration strategy is based on the known approach "Lean startup", which shortens development cycles, measure progress and gain valuable feedback from the pilots of the drones and the users of the system.
Labels: Products
0 Comments: